December 30, 2015 · 5:00 PM EST
By Christopher Woolf (follow)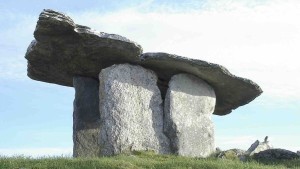 The Poulnabrone dolmen (Poll na mBrón in Irish) is a portal tomb in County Clare, Ireland, dating back to the Neolithic period, probably built 5-6000 years ago.
Let's call her 'Maria.'
This story is based on a radio interview. Listen to the full interview.
http://www.pri.org/node/86704/popout
Click the arrow.
She's a brown-eyed, brown-haired woman, with a face that would be right at home in the Medi terranean or the Middle East.
And she's Irish.
She lived about 5200 years ago, and was buried near a stone monument and an ancient ring-shaped earthwork, in Ballynahatty, near Belfast. It was her people who built nearly all those megalithic tombs, monuments and stone circles, that you see in advertisements from the Irish tourism industry. Continue reading →