By Jim Onyschuk
Dealing with discrepancies and inconsistencies are a matter of course when doing genealogical research. Discrepancy Charts are logs which record the existence of contradictory information about the same individual. They are a useful way of keeping track of particular problems that need to be solved. A Discrepancy Chart helps you organize conflicting dates or places for a specific event in a person's life.
Genealogical data will fall into the following categories:
Totally consistent, where every document provides the same date and place for each event, and there is no conflict between sources
There is some conflict, but the data is consistent enough that different researchers can reach the same conclusion
Completely inconsistent and inconclusive
A very common discrepancy may occur with age. For instance, a tombstone may indicate one age, a census another and immigration records yet another.
Example #1
When researching my grandfather Peter DUTKA, I found conflicting birth dates. In various records, there was differing birth years indicated for Peter. His daughters maintained that he was born on July 10, 1895. However, I found records to indicate that he was born in 1897. Which was the true year 1895 or 1897?
BIRTH DISCREPANCY CHART FOR PETER DUTKA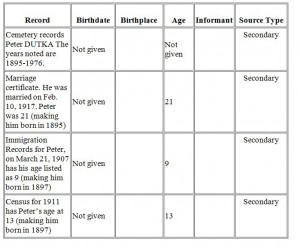 Why was there a two year discrepancy in his birth year dates? Would there have been a reason to say he was older? My first thought was to wonder "By upping his age, would this allow him to get out of school to work full-time on the farm and elsewhere and not have to attend school?" Was there a mandatory age for children remaining in school, when Peter went? I also speculated that, when he was older, he would have been eligible to receive Old Age Security at an earlier age.
I asked my aunt, why were there two different years listed? I offered my speculations at which she chuckled. She revealed that when he was immigrating, there was a special lower rate for children below a certain age, i.e. aged 10. Peter's mother had the village priest prepare a document indicating that he was born in 1897, which qualified him for the special children's rate. I imagine that this was probably a very common practice, which would have had the ship's bursars scratching their heads, wondering about these very tall Ukrainian children roaming the decks.
Example #2
Searching for my grandmother's (Mary DUTKA, nee BOJACZUK) date and place of birth, I found two different birth localities and two different birth dates.
BIRTH DISCREPANCY CHART FOR MARY DUTKA (NEE BOJACZUK)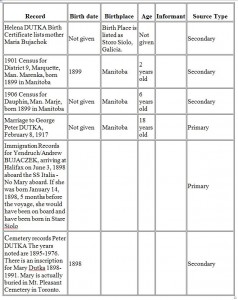 The mystery is was Mary born in Storo Siolo or in Canada as was related by the daughters? If she was born on January 14, 1898, then she would have been born in Galicia (now Ukraine). If she was born January 14, 1899, this would place her in Canada. There is no record of Mary immigrating to Canada, which means that she was born here. Since the Census records and her marriage records indicate a Canadian birth then she would have been born January 14, 1899, 6 months after her parents arrived in Canada.
Often you will be unable to explain the difference and may never be able to say with a degree of certainty which date or location for an event is correct. There are cases where almost every document or record gives a different age or place of birth and determining which one is correct can be nearly impossible. The purpose of discrepancy charts is to summarize the conflicts between different record sources and to indicate the source for each conflicting piece of data. Using discrepancy charts will more easily allow you to weigh the evidence.
Primary and Secondary Sources
While analyzing conflicting pieces of information; researchers need to be aware of the
differences between primary and secondary sources. A source is considered to be primary if it was an original record recorded close to the time when the event actually took place, such as a Birth/Baptism Record and the informant had a logical reason to know the information and was likely present at the event. A source that is not primary is considered secondary.
Classifying a source as primary or secondary does not comment about its accuracy. Secondary sources can be correct and primary sources can be wrong. However, more credence is placed in primary sources for an event, especially when there are two or more primary sources that corroborate each other.
In some cases, you may not be able to determine who provided the information and therefore not know for certain if it is a primary or secondary record. Some records have a place for informant, but many do not.
In the examples listed above, the sources all listed are secondary sources for birth dates and birthplace. This does not mean that they are wrong; however, in this case since they all provide different birthdates, some of them are obviously incorrect.
Sources do not always agree, and the sources can easily be wrong. For these reasons, you need to access more than one record or source where possible and focus on primary sources if available. However, there are times when primary sources are not available and we are left to rely on a number of secondary sources. In my examples, I have no primary sources to call on, namely the birth certificates for Peter or Mary that lists their date and place of birth.
One Last Important Note
You should never change a source to correct it. If you are not fortunate enough to
determine the cause of the discrepancy, or at least be able to explain it, indicate that in
your notes. If not, leave it to others to solve this mystery.